Pioneer Marching Band Staff
Mr. Larry Royer - Director, Pioneer Marching Band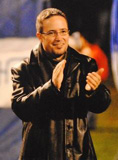 The 2019 season will mark the 17th at the helm of the Lampeter-Strasburg High School band program for Mr. Larry Royer. He also is the high school concert and jazz band director, as well as the the director of concert band and jazz band at Martin Meylin Middle School. Prior to making his triumphant return to L-S, he served as the band director of Ephrata High School from 1994 until 2002.
Mr. Royer is a graduate of Lampeter-Strasburg High School (class of 1990), and was a member of the Pioneer Marching Band in the late 1980s, the peak years of competition. Throughout his musical career, his predominant instrument has been the trombone, and although he was never a drum major, he wishes he had tried out.
After graduating L-S, Mr. Royer attended West Chester University, where he was a member of the Incomparable Golden Rams marching band. Interestingly, Mrs. Royer was a member of the color guard at West Chester, and the two met on the field. He graduated West Chester in 1994, and since then, has earned his master's degree, also from West Chester.
Mr. Royer was a visionary in the formulation and implementation of the Lancaster County Marching Band Coalition. He is ecstatic with its progression, noting that he is "really excited about where this is going", and that "I'm having fun designing the show without having to fit the mold of competition. I've already seen kids (8th graders especially) that are more open to marching band because of the more flexible schedule."
Although Mr. Royer's proverbial plate is overflowing with band commitments, he makes time to be "dad", and has three sons, two of whom are currently members of the LSMB. He is also a sports fanatic, and has coached baseball with SWS, and is an avid Phillies, Flyers, and Eagles fan. He looks forward to donning his signature "band camp hat", and kicking off the 2019 season, maintaining L-S's "tradition of quality" and "commitment to excellence".
Marching Band Staff
In addition to Mr. Royer, the 2018 staff includes:
Greyson Norcross, Assistant Director
Eva Strawser, Pit Percussion Director
Kaytelyn Naglich, Color Guard Director
Gloria Norcross, Color Guard Instructor
Ben Pontz, Music and Marching Instructor