Pioneer Marching Band Staff
Mr. Larry Royer, Director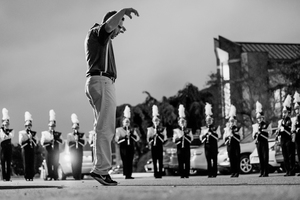 The 2019 season will mark the 17th at the helm of the Lampeter-Strasburg High School band program for Mr. Larry Royer. He also directs the concert and jazz bands at both the high school and at Martin Meylin Middle School. Prior to his triumphant return to L-S, he served as the band director of Ephrata High School from 1994 until 2002.
Mr. Royer is a graduate of Lampeter-Strasburg High School (class of 1990), and was a member of the Pioneer Marching Band in the late 1980s, the peak years of competition. Throughout his musical career, his principal instrument has been the trombone, and, although he was never a drum major, he wishes he had tried out.
After graduating L-S, Mr. Royer attended West Chester University, where he was a member of the Incomparable Golden Rams marching band. Interestingly, Mrs. Royer was a member of the color guard at West Chester, and the two met on the field. He graduated West Chester in 1994, and since then, has earned his master's degree, also from West Chester.
Mr. Royer was a visionary in the formulation and implementation of the Lancaster County Marching Band Coalition. He is ecstatic with its progression, noting that he is "really excited about where this is going," and that "I'm having fun designing the show without having to fit the mold of competition. I've already seen kids (8th graders especially) that are more open to marching band because of the more flexible schedule."
Although Mr. Royer's proverbial plate is overflowing with band commitments, he makes time to be "dad", and has three sons, two of whom are currently members of the LSMB. He is also a sports fanatic, and has coached baseball with SWS, and is an avid Phillies, Flyers, and Eagles fan. He looks forward to donning his signature "band camp hat", and kicking off the 2019 season, maintaining L-S's "tradition of quality" and "commitment to excellence."
Benjamin Pontz, Assistant Director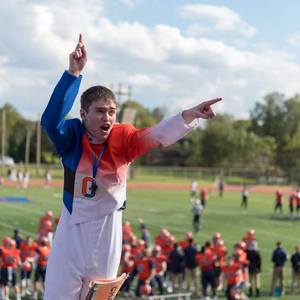 One day during the fall of 2007, Benjamin Pontz walked into a closet-turned-lesson room at Hans Herr Elementary School, where Mr. Larry Royer, in his first year as director of the fourth grade band, talked him into playing the baritone horn. Over the subsequent nine years, Ben would spend hundreds of hours in every band L-S had, and, a year after graduating, he returned to the program as an instructor. For the 2019 season, Ben will serve as the Pioneer Marching Band's assistant director.
Previously, Ben served as a music, marching, and student leadership instructor with the LSMB, working as a field technician throughout the season and instructing technique in visual and musical rehearsals. He has also worked extensively with the drum majors, and he helped to develop the LSMB's student leadership program. In addition, he is responsible for writing (and occasionally announcing) the program notes for the band's field shows.
Ben graduated from L-S High School in 2016 after serving two years as drum major and president of the LSMB in its first two years as a member of the Lancaster County Marching Band Coalition. He was the lead conductor of the inaugural mass band finale in LCMBC's first season, and he coined his preferred acronym "LanCoMaBaCo" to refer to the coalition, which he strongly supports both in principle and in practice. In high school, Ben also played in concert band, jazz band, orchestra, and pit orchestra.
Since graduating from L-S, Ben has attended Gettysburg College, where he is working on a music minor and plays in the Bullets Marching Band, with which he has served as drum major for two years, as well as in the Wind Symphony, with which he has toured Europe and recorded a CD. At Gettysburg, he takes euphonium lessons from Professor Colin Wise, Principal Trombonist of the United States Navy Band. Ben is double majoring in political science and public policy. Beyond Gettysburg, he has participated in various musical endeavors at Chestnut Level Presbyterian Church.
Ms. Eva Strawser, Assistant Director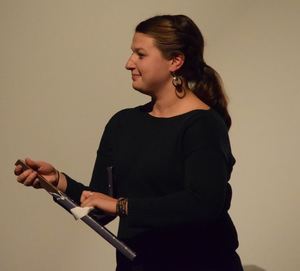 Since graduating Lampeter-Strasburg High School in 2007, Ms. Eva Strawser has done a little bit of everything for the Pioneer Marching Band. She has served as pit percussion instructor, administrative coordinator, and a right-hand to Mr. Royer in a variety of contexts. Ms. Strawser earned her bachelor's degree in elementary, early childhood and special education from Eastern University and taught special education at Lampeter-Strasburg High School for four years before assuming her current position as a fifth grade teacher at Hans Herr Elementary School.
Amy Grier, Color Guard Instructor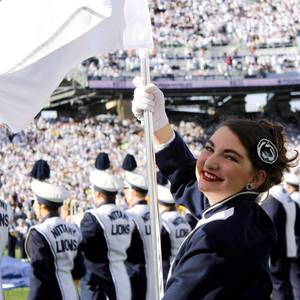 Amy will be joining the Lampeter-Strasburg High School band program for the 2019 season as the L-S Color Guard Director. Amy is a graduate of Lampeter-Strasburg High School, Class of 2014. She was a member of both the drumline as a bass drum player and a member of the color guard. She was also a part of the indoor color guard program for all four years of her high school career, which included a period in which the guard ranked in the top 50 groups in the World Guard International Scholastic Open Class.
After graduating from L-S, Amy attended college at The Pennsylvania State University. While attending Penn State, Amy participated in the Penn State Marching Blue Band. She was in the Silk line for all four years and spent two of those years as a captain. As a member of the Blue Band, Amy had the opportunity to perform at the Pinstripe Bowl, Taxslayer Bowl, Rose Bowl, Fiesta Bowl, and the Big Ten Championships. A few of her favorite moments from being in the Blue Band were performing in Beaver Stadium in front 107,000 fans, and marching in the Rose Bowl and Fiesta Bowl parades.
Amy graduated with a bachelor's degree in Environmental Systems Engineering in May 2018. After graduation, Amy was married to her husband, Jason, in June. She is thankful to have had lasting experiences in the marching band community in both high school and college, and is excited to be back in Lancaster to work with her Alma Mater.
Scott MacFeat, Percussion Instructor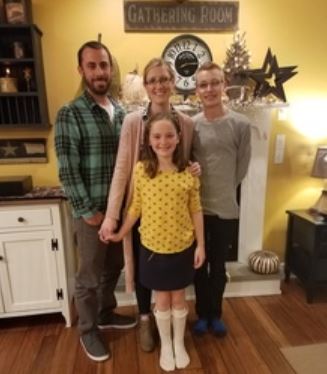 Percussion Instructor Scott MacFeat joined the L-S Marching Band staff in 2018, but his career as a drummer has spanned more than three decades since 1986, when he was three years old. Scott took drumming lessons for 15 years from local jazz teacher Larry Donley and drummed his way through Hempfield High School as a member of Marching Band, Jazz Band, Pit Orchestra, Orchestra, Talent Shows, Pep Band, etc. He graduated Hempfield in 2001, and, in the intervening years, has been teaching drumming lessons part time.
Scott graduated from Lancaster Bible College in 2008 with a bachelor's degree in Pastoral Ministry, and he will finish a master's degree in Biblical Studies at Capital Seminary, LBC in July 2019. Scott is Associate Pastor of Refton Brethren in Christ Church, a position that includes student ministry, adult community groups, preaching, and technology. He is a co-host of The LS Collective Podcast with three other youth pastors in the area.
Scott has been married to his wife Amanda since 2007 and have adopted their son Alex and daughter Morgan.
Greyson Norcross, Music & Marching Instructor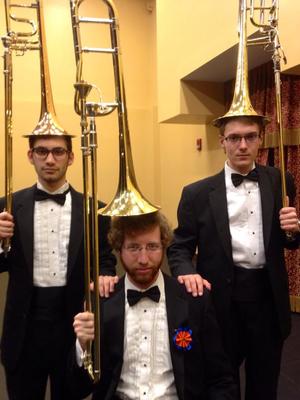 Greyson Norcross is a music and marching instructor who works with the LSMB primarily during band camp. He is a 2010 graduate of Lampeter-Strasburg High School where he performed with the concert band, jazz band, orchestra, and marching band. He went on to attend Gettysburg College where he studied psychology and anthropology while continuing to play trombone with the marching band and symphonic orchestra. Greyson's primary instrument is trombone, but also plays baritone, tuba, piano, the melodica, and a little bit of guitar.
After graduating from Gettysburg, Greyson worked as a high school college adviser, assisting students through the college application and financial aid process. While working as college adviser, he also served in the school as assistant director of the marching band and jazz band. Upon returning to Lancaster after serving as an adviser, Greyson was delighted to become more musically involved at L-S assisting with the marching band and jazz band. He was also a regular performer with the Allegro Orchestra Lancaster.
Greyson is currently attending North Carolina State University in Raleigh, North Carolina for his master's degree in Higher Education Administration. When not in class or doing homework, Greyson can be found supporting the NC Courage women's soccer team, cheering on the Carolina Hurricanes, or curling with the Triangle Curling Club.