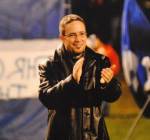 Marching Band News and Notes
updated weekly by Mr. Royer
Hello,
And we play on!! The football team had an impressive win on Friday night which means we will follow them to Bishop McDevott High School this coming Friday night. AGAIN, ALL MEMBERS ARE EXPECTED TO PARTICIPATE. Colorguard and members of the pit are not required to come but are welcome. There will be room on the buses.

PLEASE READ THIS CAREFULLY ABOUT CLEAN UP NIGHT!!
Clean up night will still be held this Tuesday 11/12 from 6:30 – 8:00 for colorguard and percussion. With many of our kids being involved in NHS inductions, it would be great to have some extra help from woodwind players. If you are available, it would be great if you could come out. Brass will do clean up night at a later date.

Here is the schedule for the week:


Tuesday 11/12 6:30 – 9:00 Clean-up night for colorguard, percussion and woodwinds that can help.
Friday 11/15 4:45 Report for Football at Bishop McDevott. Game time 7pm.
Tuesday 11/19 6:30 Recognition night. For all members and families. There is no official dress code, but historically people like to dress up.
Here is the Link to report and upcoming absence. Please use it for all absences WHICH SHOULD PRIMARILY INCLUDE athletic events, family events like a wedding etc. Even if you have already emailed me, it would be helpful to re-submit it to this form. Remember, it is never OK to miss an event. You are all important to everything we do!
Absence Reporting Form
Remind numbers:
L-SMB 2019 Parent: 81010 @ckfa2c
L-SMB 2019 Student: 81010 @lsmb2

Mr. Royer
The Band Boosters Association
The Band Booster supports the instrumental program of the Lampeter-Strasburg High School by providing support for the L-S Marching Band and its associated sub-groupings such as pit orchestra, jazz band, color guard, concert band, etc., and working with the Band Director and the advisers for the overall good of the band.