Lampeter-Strasburg Marching Band
A Tradition of Quality ... a Commitment to Excellence
Tag Day 2020
The Biggest Fundraiser of the Year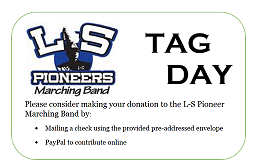 Support the L-S Marching Band's Tag Day Fundraiser!
For decades, trumpeters and twirlers, drummers and drum majors, have canvassed the Lampeter-Strasburg School District on a hot Saturday in August to collect donations to support a marching band program that has won state championships and, more recently, pioneered a non-competitive coalition of Lancaster County bands that brings thousands of students together to support each other at festivals each fall.
As with everything else, how the band achieves its goals will look a little different this year, but the crux of the program remains the same: the band will present a complete, full-scale program of music, marching, and visual flair. This fall's show is titled "V is for Victory" and commemorates the 75th anniversary of the end of World War II with music from Beethoven, John Williams, plus some jazz!
"With so much changing, we are excited to provide a source of normalcy for our students," said band director Larry Royer, who is beginning his 27th season at the helm of a marching band and his 18th at L-S. "The kids have responded incredibly well to the safety precautions we have put in place, and I can't wait for the community to see what they have been working on through the summer."
The marching band's performance schedule for the fall remains up in the air, but already, the band is experimenting with live streaming technology to make music accessible to all.
"One of the things I have always appreciated about this community is that it shows up to support music in our schools even when that looks different than it has in years past," said Royer. "We take pride in maintaining our commitment to excellence each year, and this year is no different."
On Saturday, August 29, band members will place a postcard and envelope on the doors of L-S residents rather than knock on the door to have a conversation. The postcards will have a photo of a band member along with some reflections on how the band program has impacted him or her. The community will be asked to consider making a donation either by mailing a check or using PayPal to contribute online. In either case, the donation is fully tax deductible and will help to support the band in purchasing instruments and flags, designing its show, and performing for the community.
"There's nothing quite like the sound of the crowd cheering at the first big hit of a marching band show," said junior Jake Reichert, a tuba player entering his first year as drum major. "We know that will look a little different this year, but if there's one thing I know about the L-S community, it is that it always finds a way to support each other."
For more information about the band, readers may visit lsmarchingband.org or contact Mr. Larry Royer, the band's director, via email: larry_royer@l-spioneers.org.

Contact LS Marching Band Boosters with any questions you may have.
LSMBBoosters@gmail.com
WHO: The Lampeter-Strasburg Marching Band
WHAT: Annual Tag Day fundraiser
WHEN: Saturday, August 29 throughout the day
WHERE: Your front door
WHY: To support the band in purchasing instruments, designing its show, and performing for the community
HOW: Donate by sending a check in the envelope that arrives at your door or via PayPal (instructions will be included on the postcard)
Address:
Lampeter-Strasburg Marching Band
Band Boosters
P.O. Box 428
Lampeter, PA 17537-0428
CONTACT: Mr. Larry Royer, Band Director: larry_royer@l-spioneers.org