THE HISTORY OF L-S PIONEER MARCHING BAND

Laced in tradition and rich in excellence, the Pioneer Marching Band has been an institution with which to be reckoned in the L-S school district for longer than most can remember.
One glance at the band room shows everything one could possibly need to confirm that L-S's storied marching band tradition sets a high standard to uphold for its current members.
From its early years riling up the crowds at football games through its glory years of having hundreds of students, and boasting multiple Yankee Division Titles from Cavalcade to its exciting new chapter with LCMBC, one theme has resonated: "A Tradition of Quality, A Commitment to Excellence".
2014: "Live"
In the inaugural season of LCMBC, the Pioneer Marching Band performed a field show entitled "Live", which proved an excellent crowd-pleaser.
Opener: "Luck Be A Lady"
Ballad: "When I Fall in Love"
Closer: "Can't Buy Me Love"/"Magical Mystery Tour"
Featured performers included:
Elke Arnesen, Color Guard
Tyler Andrews, Trumpet Soloist (Part Two)
Mason Hess, Mellophone Soloist (Part Two)
Student leaders included:
Drum Majors: Ben Pontz (opener and ballad), Seth Bare (closer)
Warmup Leaders: Megan Doolittle, Elke Arnesen, Jarrod Lloyd
Section Leaders: Tyler Andrews, Sam Welk, Faith Stoughton, Robert Arnold, Ashley Readinger, Gloria Norcross
2013: "An American Barn Raising"

In what ultimately proved its final year of competition, the Pioneer Marching Band depicted a traditional Amish barn raising to assist a family in its community whose barn was burned down. The five-part show received some excellent scores, including two that exceeded 90.
Overture: "The Promise of Living"
Second Movement: "American Barndance"
Third Movement: "Fire!"
Ballad: Excerpt from "American Barndance"
Closer: "American Faces"

Featured performers included:

Sarah Henry (mellophone), Seth Bare (trumpet), Anthony D'Agostino (baritone), and Ethan Byers (tuba) forming a brass quartet during the overture
Katie Dombrowski (saxophone solo during overture)
Sarah Henry and Justin McCarthy, mellophone duet in part four.

Student leaders included:

Leadership team: Tyler Andrews, Seth Bare, Alexis Chin, Anthony D'Agostino, Katie Dombrowski, Rachel Gagliardi, Ian Goss, Sarah Henry, April Koshuta, Jeff Koshuta, Karlee Kurtz, Justin McCarthy, Catherine Wittemann
Color Guard Seniors: Erin Binder, Morgan Hanlon, Alyssa Heiser, Jaqi Quenzer, Amy Shortes, Rachel Sinclair
2012: "Journey of Angels"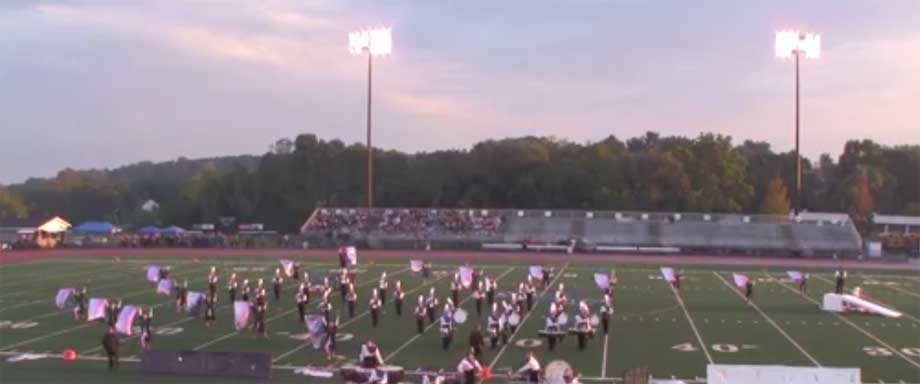 The band's 2012 field show was entitled "Journey of Angels", and featured some excellent musical arrangements from middle school band director and former high school band director D. Scott Loose.
Opener: "Dies Irae" from Verdi's Requiem
Ballad: "Nimrod"
Closer: "Ode to Joy" (with some jazz and swing elements)

Featured performers included:

David Griffith, Bagpipe Soloist with "Amazing Grace" to begin part two
Ian Goss, Snare Drum Soloist in part two
Justin McCarthy, Mellophone Soloist in part two

Student leaders included:

Seniors: Stacey Beiler, Maria Viscosi, Erica Shoenberger, Kaitlyn Chambers, Delayna Westcott, David Griffith, Clark Strawser, Ethan Dunnenberger, Mike Smith, Teresa Peiffer, Kurstin Christaldi
2011: "Battle for Emerald Isle"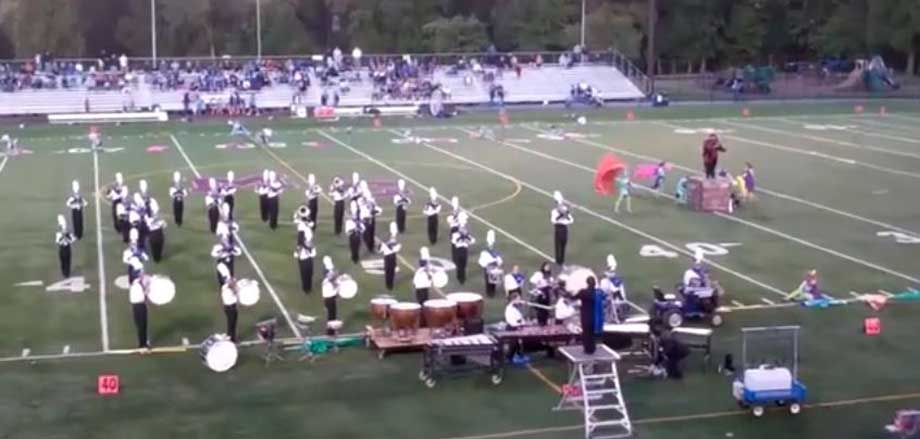 The 2011 field show for the Pioneer Marching Band took a journey to Ireland, and was entitled "Battle for Emerald Isle".
Musical selections, arranged by Scott Loose, included:

Celtic Opener
"Danny Boy"
Irish Battle

Featured performers included:

Joel McCarthy, Baritone Soloist during "Danny Boy"
David Griffith, Bagpipe Soloist

Drum Majors:

Lauren Tracy
Jill Gagliardi