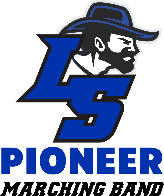 Lampeter-Strasburg Marching Band
A Tradition of Quality ... a Commitment to Excellence
THE HISTORY OF L-S PIONEER MARCHING BAND

Laced in tradition and rich in excellence, the Pioneer Marching Band has been an institution with which to be reckoned in the L-S school district for longer than most can remember.
One glance at the band room shows everything one could possibly need to confirm that L-S's storied marching band tradition sets a high standard to uphold for its current members.
From its early years riling up the crowds at football games through its glory years of having hundreds of students, and boasting multiple Yankee Division Titles from Cavalcade to its exciting new chapter with LCMBC, one theme has resonated: "A Tradition of Quality, A Commitment to Excellence".