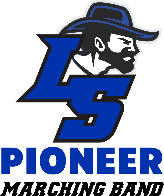 Lampeter-Strasburg Marching Band
A Tradition of Quality ... a Commitment to Excellence
The Pioneer Marching Band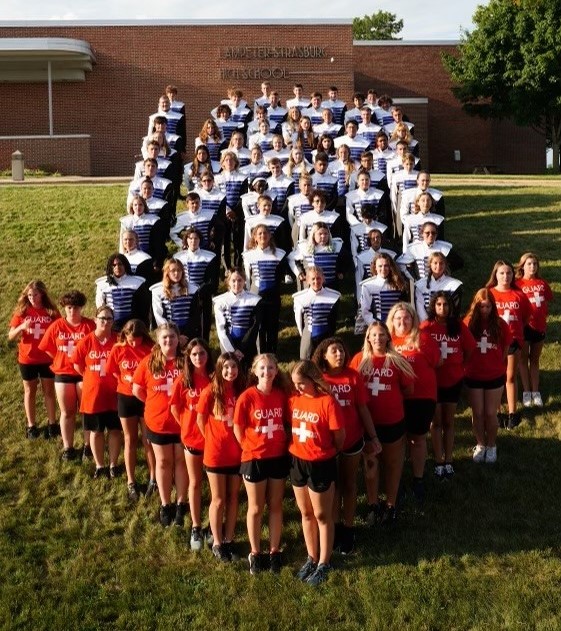 The Pioneer Marching Band is led by a strong student leadership team that includes section leaders Gracie Albright, Olivia Leed, Isabella Salinas, Sara Tobler, Maya Carl, Maddie Miller, Justin Gouger, Laura Leaman, Brody Crandall, Aidan Havey, Hannah Dice, Aiden Flory, Alicia Bennethum, Zoe Dilling, and Alyssa Sprout; committee chairs Rachael Lee, Maddie Ross, Lana Dyer, Talia Hall, Hailey Weaver, Claire Eckert, Kira Fritz, Sarah Blount, and Olivia Zimmerman; and band officers Katherine Helm, Noah Sanderson, and Elly Bruner. Props designed and painted by Elizabeth Reinhart.
And now, under the field direction of drum majors Bethany Barrall, Jeimy Elvira-Paredes, and Pearce Flory, the 2022 Pioneer Marching Band!
The Pioneer Marching Band is under the direction of Mr. Larry Royer. Assistant directors are Kristin Novak, Ben Pontz, and Rob Shaubach. Color guard instructors are Emma Dean and Amy Grier, and percussion instructors are Madeline Helm and Scott MacFeat. The band's drill designer is Mr. Jason Majerczak and prop designer is Elizabeth Reinhart. The Pioneer Marching Band would like to thank the faculty, staff, administration, and school board of the Lampeter-Strasburg School District for their outstanding support of our program as well as the Pioneer Band Booster Association. The Pioneer Marching Band is a proud member of the Pennsylvania Marching Band Coalition.
Lampeter-Strasburg Pioneer Marching Band is Proud to Present their 2022 Field Production "River Dances"
The Pioneers' 2022 field production, entitled "River Dances," explores the liveliness, the grandeur, and the functionality of these beating hearts of civilization. We open with "Cloudsong," originally from the Bill Whelan 1994 production of Riverdance, and invite listeners to "feel the magic and power of surrender to life," as we feature senior trumpet soloist Maya Carl.
In part two, we turn to the American West, and Wyoming's Wind River, which inspires Joseph Curiale's "Joy," arranged by Tom Wallace. This celebratory serenade winds its way into our ballad of the American frontier, "Red River Valley," featuring a mellophone solo with the traditional theme from "Shenandoah," an ode to the Missouri River, performed by junior Justin Gouger and accompanied by a low brass trio consisting of senior trombonists Laura Leaman and Noah Sanderson and sophomore baritonist Truman Horst.
We close with a tribute to the traditional melodies flowing from the Irish heartland in the finale from Riverdance, "Home and the Heartland," again arranged by Tom Wallace.