Lampeter-Strasburg Marching Band
A Tradition of Quality ... a Commitment to Excellence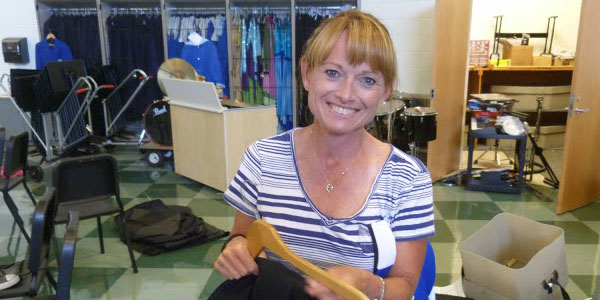 Marching Band Uniform Care
The "Dos" and "Don'ts"
DO keep your uniform on its hanger.
DO keep your uniform in its bag.
DO keep the zipper in your bag opened slightly when not in use (this helps with controlling moisture).
DO keep your Dinkles in the pocket on the back of the bag (not in with your uniform for obvious reasons).
DO keep your gauntlets and gloves in your hat box (no hat box? - place your gauntlets in the top zip pocket of your garment bag).
DO keep your uniform straps up at all times, unless using the restroom.
DO wear something on your feet (socks and some kind of footwear – this is a safety issue).
DON'T steam iron any part of your uniform.
DON'T machine wash your uniform.
DO remember your entire uniform at the end of the season.
The 2014 season features some new "uniform moms", following the retirement of legendary "Mrs. G" (Mrs. Karen Gagliardi). Graciously volunteering to fill her shoes is Tina Eidemiller, with help from Jane Geiger, the new Mrs. G in town.